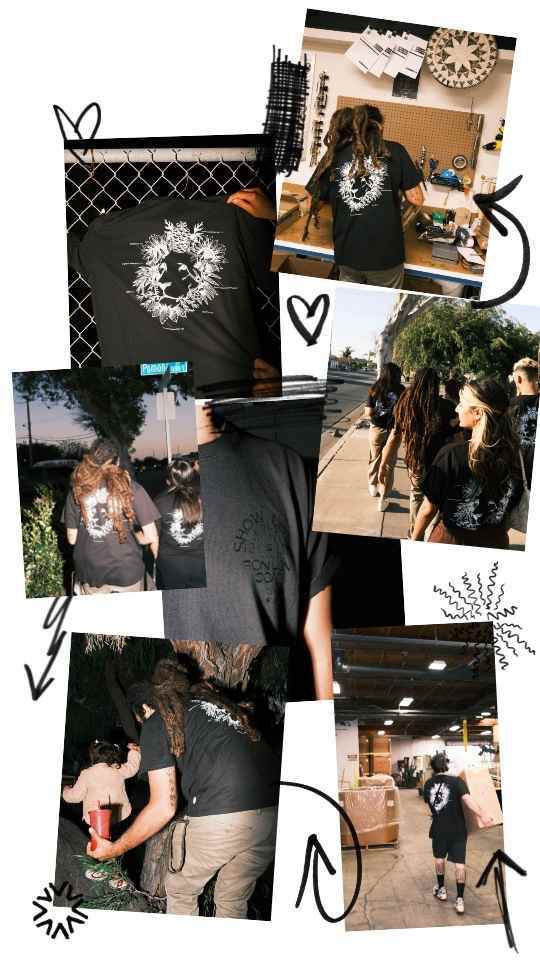 This isn't your average black tee shirt.
This is a uniform that is worn with pride.

These are made-to-order on the blanks we love the most and will be available for pre-order for only 12 days.
Style: Standard Tee - ILS Uniform
Weight: 10 oz.
Fabric: Pre-Shrunk 100% Ring-Spun Cotton
Fit: Classic
Process: Garment Dye
Country of Origin: USA

Minimal Standard Issue Branding
Vertical Manufacturing
Sweatshop Free
Once orders are placed - a production unit is reserved for you.
More details below.
Uniform as in united as a formal team - a family!

Made on our favorite blanks ever, with our own ethos ingrained in the fabric of this design.

On the front of this shirt you'll find a black on black chest print. It's a couple of ideas that we live by: show love, give thanks, shut your mouth.

Black on black because its for yourself, a reminder to continue striving to be your best no matter where your day takes you.

On the backside, you might first see a lion however on a closer look you can see an all-natural lion built from the ingredients that are found in our products.

When you're with us, you're family. Show your pride outside of the shower!
ORDERING DETAILS
5.6 - 5.17 : PRE ORDER WINDOW
5.19 -5.26 : PRODUCTION
5.27 - 5.31 : SHIPPING
You may and are encouraged to shop the rest of the site - we will ship soap and products independatly of the shirt upon reqests.